Sing a Song
Farmer Jones's Farm
One dog
Two cats
Three goats
Four bats
Five hens
Six cows
Seven geese
Eight sows
Nine sheep
Ten lambs
And hidden away where nobody sees
Are one hundred and fifty honey bees!!
Watch!
Sesame Street: Big Bird Visits a Farm
Try This!
Try to visit a local farm or farmer's market today to see what foods are growing locally. Have you eaten any of them before? If not, try a new to you food today!
TumbleBooks!
Ma, I'm a Farmer by Michael Martchenko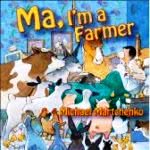 Books to Check Out from the Library