Sing a Song
Mother Goose Time!
Mary, Mary, quite contrary
Mary, Mary, quite contrary
How does your garden grow?
With silver bells and cockleshells
And pretty maids all in a row.
Watch!
Dress up and Dance with Daniel Tiger!
Try This!
Do you have old clothes? Play dress up together and put on a little show. If you have babies, play peek-a-boo with a handkerchief.
TumbleBooks!
And You Can Come Too by Ruth Ohi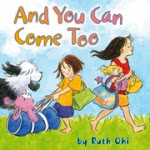 Books to Check Out from the Library