Sing a Song
My Shadow
By Robert Louis Stevenson
I have a little shadow that goes in and out with me.
And what can be the use of him is more than I can see.
He is very, very like me from the heels up to the head;
And I see him jump before me, when I jump into my bed.
Watch!
Peep and the Big Wide World – Shadow Play
Try This!
Cover the floor with paper and trace your child's body on the paper. Be sure to include a shadow too! Color and add details to your drawing.
TumbleBooks!
Sometimes a shadow can be a big surprise! Boomer's Big Surprise by Constance McGeorge; illustrated by Mary Whyte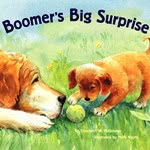 Books to Check Out from the Library