Sing a Song
Turkey
The turkey is a funny bird
Its head goes bobble-bobble;
And all he knows is just one word...
And that is GOBBLE-GOBBLE!
Watch!
Turkey Dance by The Learning Station
Try This!
Everyone in the family trace his or her hands to make the feathers for a turkey. Draw a family of turkeys for Thanksgiving.
TumbleBooks!
Coriander the Contrary Hen by Dori Chaconas; illustrated by Marsha Gray Carrington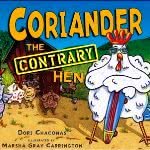 Books to Check Out from the Library