Sing a Song
Alphabet Monster
I'm the Alphabet Monster
And nothing tastes better
To the Alphabet Monster
Than eating every letter.
A "j" and an "a"
And a "c" and a "k"
And the million more letters
I munch every day.
I'm hungry now.
What shall I do?
I think I'll eat a "y," an "o," and a "u"
. . . . . . that means YOU!
Watch!
Sesame Street: Sing the Alphabet Song!
Try This!
Write out each letter of the alphabet. Cut them out in squares and tape them around the house. Call out a letter for your child to find until they are all gone!
TumbleBooks!
ABC Letters in the Library by Bonnie Farmer; illustrated by Chum McLeod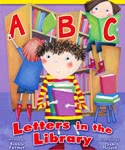 Books to Check Out from the Library