Sing a Song
Five Little Books
Five little books, sitting on a shelf.
Look inside, and see a little elf.
Four little books, all in a row.
Look inside, see it start to snow.
Three little books, sitting on the shelf.
Can you take one and read it for yourself?
Two little books left on the pile.
Fine one now and read it with a smile!
One little book, all that is there.
Found itself a reader who was happy to share!
Watch!
Manners in the Library
Try This!
Help your child make and decorate a bookmark. Discuss why it is important to use a bookmark, especially with library books.
TumbleBooks!
It is important to have good manners everywhere you go (including the library!) Do you think Penelope has good manners in Penelope and the Humongous Burp?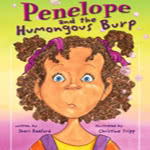 Books to Check Out from the Library