Sing a Song
This Land is Your Land
This land is your land
This land is my land,
Let's work together
To make it better
From tall green forests to clear blue waters
This land depends on you and me!
Watch!
Sesame Street: It's Easy Being Green
Try This!
Wear something green. Talk about the things you will do to be more earth friendly today (and everyday)!
TumbleBooks!
Trout Are Made of Trees by April Pulley Sayre; illustrated by Kate Endle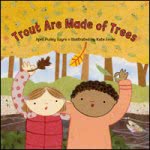 Books to Check Out from the Library