Sing a Song
Take Me Out to the Ocean
(Tune: "Take Me Out to the Ballgame")
Take me out to the ocean
Take me out to the sea
There goes a starfish and sand dollar,
I'm having such fun, I've just got to holler
Oh, it's swim, swim, swim, underwater
Catch a ride on a whale, don't fear,
For the sea animals are our friends,
Let's give a great big cheer!
Watch!
Building a Sand Palace!
Try This!
Summer time means trips to the beach! Next time you go to the beach, try to remember to bring some sand and shells home to play with. If you cannot visit the beach, order some shells from the Internet to explore – there is a lot you can do with shells! Decorate with them, sort them, count them, paint them, and more!
TumbleBooks!
When you go to the beach, make sure you wear sunscreen! Read Block the Sun, Not the Fun! by Ellen Feinman Moss; illustrated by Susan Tebbutt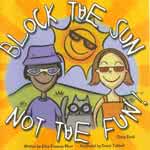 Books to Check Out from the Library
Beach Baby by Laurie Elmquist; illustrated by Elly MacKay
Beach by Elisha Cooper