Sing a Song!
Good Morning Song
Good Morning, good morning to you.
We're all in our places
With sunshiny faces,
and this is the way
to start a new day!

Good morning to you
Good morning to you
Our day is beginning
There's so much to do
So good morning, good morning, Good morning to you!
Watch!
"Good Morning," a film by David B. Levy
Try This!
Sing a song to your child in the morning to wake him or her up.
TumbleBooks!
Hello Sun by Hans Wilheim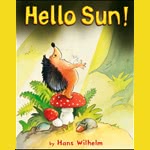 Books to Check Out from the Library