Sing a Song
Five little pumpkins
Five little pumpkins sitting on a gate;
The first one said, "Oh my it's getting late."
The second one said, "There are witches in the air."
The third one said, "But I don't care."
The fourth one said, "I'm ready for some fun!"
The fifth one said, "Let's run and run and run."
"Wooooooo" went the wind,
And out went the lights.
And the five little pumpkins rolled out of sight.
Watch!
Big Pumpkin – SUPER WHY!
Try This!
When you carve your pumpkin, help your child count the number of seeds! Spread them on a cookie sheet, add some olive oil, garlic, and other spices and roast them for a yummy treat.
TumbleBooks!
Mercy Watson: Princess in Disguise by Kate DiCamillo; illustrated by Chris Van Dusen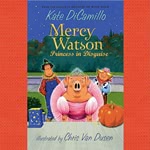 Books to Check Out from the Library