Sing a Song
One Little Flower, One Little Bee
One little flower, one little bee.
One little blue bird, high in the tree.
One little brown bear smiling at me.
One is the number I like, you see.
Watch!
Pump Up the Pattern
Try This!
Try to make a pattern with stickers or other items found around the house.
TumbleBooks!
Alice in Pastaland by Alexandra Wright; illustrated by Reagan Word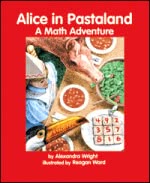 Books to Check Out from the Library